Membership Application 2017/18
A big "Thank You" to the local organisations supporting our Japanese Cherry Blossom festival. In particular our thanks to: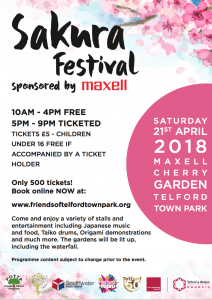 The next meeting will be on Wednesday 13th December at 12 noon in the Town Park Visitor Centre
The Chelsea and Maxell gardens are looking their very best this year. If you fancy helping us to keep them that way why not drop in on one of our regular gardening sessions and have a chat about membership. We are there every Saturday and Wednesday morning and we'd be delighted to see you. We're a very friendly crowd and our gardening sessions are great fun.
There are no upcoming events at this time.
http://friendsoftelfordtownpark.org/test-2/
SPRING INTO THE PARK SAT 22nd APRIL Activities for all the family - see the Gruffalo at intervals