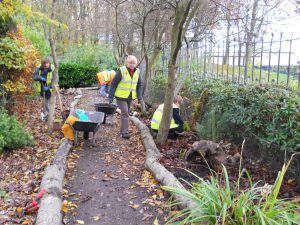 Our constitution makes it clear that the Friends are all about promoting, conserving and protecting Telford Town Park. We enjoy the support of not only Telford & Wrekin Council Parks Department but the Southwater Event Group and also lots of local Town and Parish Councils in our borough. The Town Park is a very important space for Telford, not only for leisure activities but to assist in the renewing and cleaning of the very air we breathe. We have also started a new scheme called 'Friends 4 Health' by which people recovering from illness or perhaps with some mobility issues can be referred by one of several different health agencies, both Council and NHS, to spend some time with the Friends in order to assist in their recovery. With this in mind we have a range of special tools available.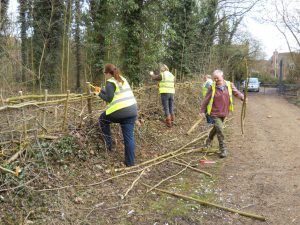 We are very varied and mixed group of all ages and always warmly welcome new members. The minimum age limit is 16 unless accompanied by a full adult member. FULL Membership is free if you are prepared to make a small commitment to helping us with projects every year, with a special discount card, not available elsewhere.  SUPPORTER membership is also free but we ask for a donation instead of your time to assist with our work in the park. No particular skills are required and if necessary training is often available to members. We carry out a wide variety of tasks including gardening, hedge laying, scrub clearing, promotional events, erection of bird and bat boxes and other general environmental maintenance work.
We look forward to the future with confidence and hope that you will consider joining us and help to preserve this valuable asset that is Telford Town Park and Nature Reserve. You will find a membership application form HERE or if you would like to have a chat with us before joining please feel free to drop into one of our regular Wednesday or Saturday morning gardening sessions in the Chelsea gardens. We're a very friendly bunch and we'd be delighted to see you.