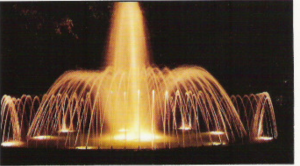 If you have lived in or around Telford for more than twenty five years you are bound to remember the musical fountain in the Chelsea Gardens in the Town Park. The 1980's and early '90s were the heyday of the Chelsea Gardens and the pools and fountains were an essential part of this – particularly the musical fountain which was installed by the Telford Development Corporation to enhance the gardens as part of the programme for entry into the "Entente Florale". This award scheme is a kind of Europe-wide version of the "Britain in Bloom" scheme and the gardens, complete with the musical fountain, enabled the town to win the award in 1990.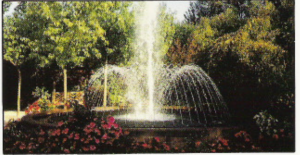 Sadly, the musical element did not last long into the 1990s and the fountains themselves finally gave up the ghost about 3 years ago – by which time the gardens themselves were well past their prime. It was at about this time that the Friends of Telford Town Park became actively involved in working in the gardens on a regular basis with a mission to restore them to their former glory as a major feature of the Town Park. With the active support and encouragement of Nicola Allen, the Park Manager, volunteers from the Friends have worked in the gardens on a regular basis, creating a sensory garden as a major new feature and restoring and improving many of the original beds and other features. These improvements clearly played an important part in the decision by Keep Britain Tidy in 2015  and 2016 to give the Park the prestigious Green Flag award.
Meanwhile, despite all these improvements the fountains remained turned off and silent. The ambition has always been to get them working again, complete if possible with the musical feature but this ambition carried a very significant price tag. Estimates made by the council put the cost of restoring the pools and water features at more than £50,000 – not an easy sum to find when other council services are under such severe financial pressure. But we have now heard that the Suez Communities Trust have approved a grant for £49,440 under the Landfill Communities Fund to enable the restoration of two jet fountains (one of which is also lit & musical) in the Chelsea Gardens, and a cascade fountain in the adjacent Maxell Cherry Garden.  Work is likely to start within the next few weeks and well before the end of the year we should be able to sit in the gardens and watch the fountain playing in time to the music once again.
The Telford Town Park is now regarded as a great day out for families right across the Midlands and the restoration of these water features can only serve to enhance that position. The friends are proud to have played a major part in enabling this improvement and delighted that our contribution is recognised in the Council press release.