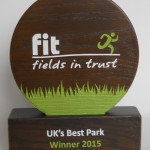 We started our year last April 2015 with a 2 day display in the foyer of ASDA Telford Town Centre. This was followed on by an illustrated lecture on Telford Town Park to the Hollinswood and Randlay Chit Chat Club. We then took part in a 2 day display in the town centre shopping mall to promote the park and the Friends.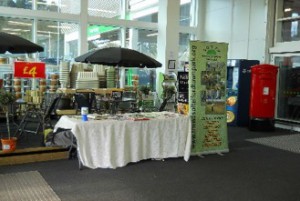 Next, we got involved with the 'Let's Grow'
group which had started up, helping
unemployed youngsters grow some vegetables and learn about food. The produce was then taken to the Telford Food Bank.
In June, we saw the arrival of the Green Flag Award judges in the park and a couple of
months later we heard that the park had been awarded the prestigious Green Flag.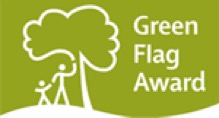 Throughout June, July and August we did a lotscrub clearance along with a company called Interserve Health- care, who kindly lent us some staff to
help with this task.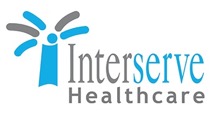 In July we also attended a Senior Citizens Forum in Dawley and met Telford's MP, Lucy Allen. She was very interested in our work and said she would visit us as soon as time allowed. Also in July we attended the Hollinswood & Rand- lay Parish Council's Fun Day, generally promoting the park.
In September we took part in a week long promotion of the park by Telford & Wrekin Council. August and September saw the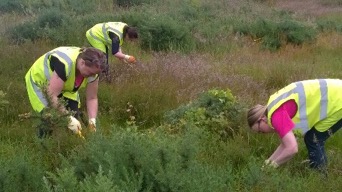 start of our new Xplorer sessions
of orienteering for youngsters and their families. This proved to be very successful and it looks like we will continue with these free sessions into 2016.
We also went on a visit to the British Ironwork Centre
at Aston, to the west of Shrewsbury to discuss the possibility of some sculptures on loan. I am glad to say this was agreed and we now have a Red and a Green Gorilla in the Maxell Cherry Garden for most of 2016.
In October we did a lot of tidying up at the Crannog in the south of the park including rebuilding the willow hide.
In November an illustrated presentation was given to the Good Companions Club at Ketley, showing them what we do in the park. We also managed to attend a one day parks conference at Coventry University along with the park manager, Nicola. We also got in some tree planting, courtesy of the Woodland Trust who have given us a total of 140 saplings to plant. We were assisted in this task by Interserve again. This was also the month we learnt that we had made it into the top 3 parks in the UK on the Fields in Trust web site and were invited to Lords Cricket Ground to attend the final awards ceremony. I attended with Nicola and we were delighted and amazed that we actually won the Best UK Park award, the first time they had made this award in celebration of their 90th Anniversary. The award was presented by Ore Oduba, a BBC sports presenter during a prestigious awards dinner.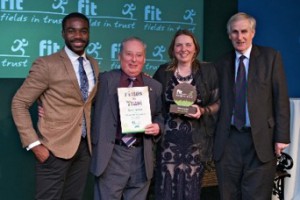 December then saw us donning santa suits again for the 9th Telford Santa Fun Run in aid of the RNIB and Guide Dogs UK. We raised the magnificent sum of £3,000 which was split equally between the two charities. 
January saw us with another round of council budget cuts to contend with. This time they wanted to close the Visitor Centre from November through to half term in February. The Friends
do not agree with the centre being closed at all and we started negotiations and a campaign to stop it. So far, we have gained some concessions that it may only close on a Monday and a Friday through the winter but we shall continue to fight for opening every day.
At the end of January, The Friends were invited to attend a full council meeting at The Place Theatre in Oakengates to be officially thanked for nominating the park for the Best UK Park award and of course achieving it. This was mainly due to the general public voting for us but also of course due to all the hard work and enthusiasm put in during the year by the Friends and the park staff. The Friends then held their own celebratory event at the Holiday Inn afterwards courtesy of the Southwater Event Group, inviting the park staff as well. An excellent social evening was enjoyed by around 30 people.
February saw us attend a breakfast business meeting at the White House Hotel in Wellington where we gave an illustrated talk about the park and our work. We also attended a 'working lunch' at Hollinswood and Randlay Parish Council in Hollinswood which was a useful meeting with lots of exchanges of knowledge.
The 4th and 5th March saw us Clean 4 The Queen in the park by litter picking particularly around Randlay and Blue Pools which tend to be very bad at times. We were assisted by RSM Accounting Ltd. On 17/18 March we attended the Love Parks conference in Nottingham City Centre. We did not win any awards but received 2 commended certificates for 'Love Your Park' and a 'Partnership Award' for working with Telford & Wrekin Parks Department.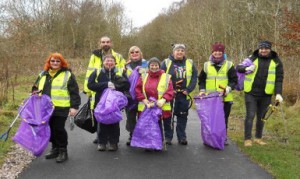 We now are also the proud tenants of our own storage facility
at last, so some painting was carried out along with some shelving being erected. This means that we will not have to
rely on the rangers picking up our gazebos etc when we need them but can just pop in and get them ourselves. We also now know what we have and where it is !
Throughout the year we have also worked very hard in the Chelsea Gardens and Maxell Gardens with planting, painting and other maintenance. A total of the equivalent of over 200 volunteer days.
So another fantastic year for the Friends, especially the Best UK Park 2015 Award. Icing on the cake!
Why not consider joining our very successful group and do your bit to make our lovely park even better.
Best wishes for 2016/17
Chris Pettman, Chairman. April 2016
Contact us on 01952 382340 or via our web site: www.friendsoftelfordtownpark.org 
With grateful thanks to our supporters
The Heritage Lottery Fund
Telford & Wrekin Council
The Southwater Event Group
Great Dawley Town Council
Madeley Town Council
Stirchley & Brookside Parish Council  
Hollinswood & Randlay Parish Council  
Lawley & Overdale Parish Council
Donnington & Muxton Parish Council
Wrockardine Wood Parish Council 
St Georges & Priorslee Parish Councils
Telford Repro, Hadley
and all our visitors
www.friendsoftelfordtownpark.org