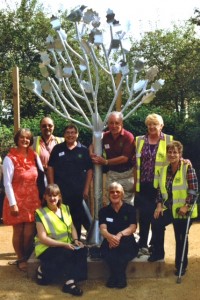 The new Friends' Sensory Garden located within the Town Park's Chelsea Gardens is now open to the public following the official opening by the Mayor of the Borough of Telford and Wrekin and David Wassell MBE, former Head of the Landscape Department, Telford Development Corporation, 1969 to 1991 and creator of the Chelsea Gardens, on Saturday 13 September.
 Around 70 people gathered in the garden for the ceremony and enjoyed tours of the Garden with members of the Friends Gardening Group as well as vocal performances from Telford and District Light Operatic Plyers (TADLOP) and young musicians from the Telford Youth Orchestra.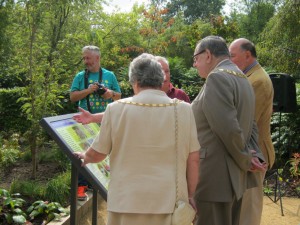 The new garden has been designed and created by the Friends of Telford Town Park Gardening Group working with professional landscape architect, Teresa Rham. It features raised beds, an herb garden, seating, sculptures and water features and has been designed to enable access for all. It replaces the sensory garden which was demolished to make way for the new Southwater Development.
 Planting and sculptures have been carefully chosen to provide a sensory experience – fragrant shrubs and flowers, bubbling waters, tactile artwork. Plants, seating and a water feature from the original sensory garden have also been included in the design.
 Project background
The project to create the Garden started about two years ago when horticultural training was made generally available by the 'Parks for People' Lottery Fund with a professional landscape architect. Part of the training involved designing a garden and it was suggested that designing a new sensory garden would be a good project. The old rose garden in the Chelsea Gardens was chosen as the site which measures 12m x 24m.
 From a paper exercise this this project became a reality and a project which the Friends Gardening Group decided to take on.  Following months of planning, the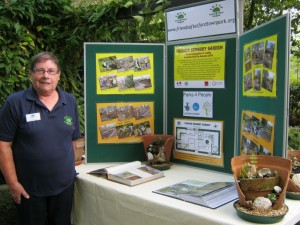 Friends starting clearing the site during the winter months of 2012/2013 and the ground works, carried out by Fitzgeralds, got under way in the Spring of this year. The Friends were then able to start planting and painting.
As work has progressed during the spring and summer months of this year the group has
been working in the garden every Wednesday morning and in the run up to the opening, every day to ensure it will be ready for the opening.
 Funding for the project primarily came from the 'Parks for People' Lottery Fund and the Town Park. Donations of equipment, materials and cash have also been gratefully received from Dobbies Garden World, Jewsons, Harvester Restaurants, Enigma Imports, Fitzgeralds and Westbury Environmental.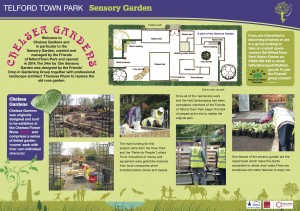 Opening times
During the autumn months the Chelsea Gardens including the new Friends' Sensory Garden are open to the public from 10am to 3.30pm
Click here for more information.