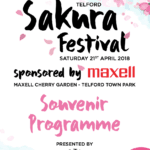 As part of the telford 50th anniversary celebrations this year, the Friends of telford Town Park will be holding a Sakura – or Cherry Blossom – festival on 21st April.
The Maxell Cherry Garden will be open from 10am as usual until 4pm to wander round freely and enjoy the gardens and the stalls around the bandstand. From 5pm until 9pm entry to the Chelsea and Maxell garden will be by ticket only. The gardens will be illuminated with lanterns and coloured lights and a range of entertainment will be provided, including Japanese music, Taiko drumming, professional origami demonstrations and silhouette cutting. (Click here for a copy of the full programme)
Entry will be by ticket only for the modest cost of £5 each. Children under 16 free if accompanied by a ticket holder. You will be able to enjoy Japanese street food, traditional Japanese music by Japanesque Duo and drums from the Taiko West Drummers along with Origami demonstrations and silhouette cutting.
Ticket numbers are strictly limited for this event. get yours now from out ticket agency by clicking the button below
Interested in taking a stall at the Sakura Festival? Click HERE to download an application form